Thyroid and Parotid Surgery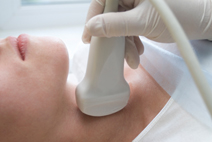 Patient Testimonials
I was diagnosed with an over-active thyroid and a swelling in my neck last September. My endocrinologist referred me to Dr Leaper. I had an initial consultation with Dr Leaper at Dunedin Hospital and discussed a partial thyroidectomy. The consultation was very thorough; Dr Leaper immediately put me at ease and explained the surgical procedure in detail including risks and recovery.
I opted to have the surgery at Mercy Hospital. Again, the consultation was extremely thorough at every stage prior to surgery and post op. I recovered very quickly from surgery, experiencing no pain and little discomfort. Within 3 days I started functioning normally: I experienced no tiredness, a clear head and improved general health. It's 4 weeks since I had surgery and I've returned to doing the normal activities I did before the thyroid problem was identified.
The procedure has allowed me to get on with my life. Thank you very much Dr Leaper for your professional and caring manner and achieving such an excellent outcome.
JI, aged 38 years