Facial Plastic Surgery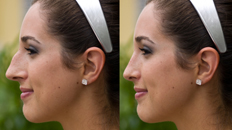 Facial plastic surgery encompasses a wide range of corrective procedures including rhinoplasty, blepharoplasty, otoplasty and cutaneous malignancy.
Rhinoplasty
Rhinoplasty, more commonly referred to as a 'nose job', is a procedure used to change the appearance of the nose by reshaping the cartilage and bone. The best results are achieved by a skilled surgeon. Clients often choose to have rhinoplasty for cosmetic reasons but it is also used to correct a variety of problems such as crooked or blocked nose, sinus and snoring problems and repair damage after accidents.




Blepharoplasty
Blepharoplasty corrects the drooping of the upper eyelid and removes puffiness and bags from under the eyes. The drooping of the skin occurs during the ageing process and some clients choose to correct this for cosmetic reasons - to look younger and less tired but in some cases it can impair vision.


Otoplasty
Otoplasty means to reshape the ears. This is used to correct protruding ears or a deep conchal bowl. Both conditions can be treated at the same time and the procedure can be performed effectively on 5 or 6-year-old children when the growth of the external ear is complete.
Cutaneous Malignancy
Patient Testimonials
On the 13th July 2009, I had an external septorhinoplasty and bilateral inferior turbinoplasty procedure done by the wonderful Matthew Leaper at Mercy Hospital in Dunedin. I had been in a vehicle accident in January and as a result of that my nose took a lot of the impact. I was referred by my doctor to Dr Leaper who was an absolute pleasure to deal with. He explained my procedure thoroughly and answered any questions I had. Before this procedure was done, I had headaches, snored and my nose was all bent out of shape. I felt terrible all the time and I was not getting much sleep either. A week after the procedures, I was reaping the benefits with good quality sleep and my headaches improved too. It's nearly three months now and I'm very impressed with my "new nose". It functions very well and looks stunning too. A great improvement. Thank you Matthew Leaper.
BR, 36yrs